Corey Byrnes
Associate Professor of Chinese Culture
Ph.D., University of California, Berkeley, 2013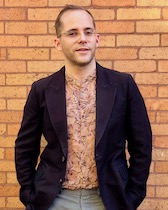 847-467-3314
1880 Campus Drive, Kresge Hall, Office 4-548
Corey Byrnes received a BA from Brown University in 2003, an MPhil from the University of Cambridge in 2005, and a PhD from the University of California, Berkeley in 2013. His research and teaching areas include the environmental humanities; 19th-21st century Sinophone literature, film, and visual culture; animal studies; and landscape and spatial studies. He is a core-faculty member and Director of Graduate Studies in Northwestern's Comparative Literary Studies Program as well as co-founder and co-director of Northwestern's Kaplan Institute for the Humanities' Environmental Humanities Workshop. The EH Workshop is the center of a lively community of faculty and graduate students whose work engages with environmental issues. The Environmental Humanities Workshop hosts a wide range of events, including work-in-progress workshops, reading groups, film screenings, artist talks, and public lectures by some of the leading figures in the environmental humanities.
Professor Byrnes' first book project, Fixing Landscape (Columbia University Press, 2019), won Columbia University's Weatherhead East Asian Institute's First Book Award in 2018 and was awarded honorable mention for the American Comparative Literature Association's 2020 Harry Levin Prize for outstanding first book in comparative literature. It approaches the 2500-year-long representational tradition inspired by the Three Gorges region of southwestern China from the perspective of the recently completed Three Gorges Dam, which displaced well over one million people and radically transformed the ecology of the Yangzi River. By looking beyond standard narratives about the origins of the Three Gorges Dam project, it locates the dam's ultimate horizon of possibility in the aesthetic traditions that made the region both famous and central to the political mythology of multiple Chinese states.
His second project is about "cultures of threat" and how they produce unfolding environmental and social futures between the United States and China and across the Pacific. Cultures of threat encompass forms of representation and lived practices through which an imagined future, when feared, comes to seem not only real but imminent. Unlike risk, threat describes not what is likely or unlikely to happen—the probable— but rather what could conceivably happen—the possible. It takes shape through speculative fictions of the plausible designed to create fear—and to incite action. "Cultures of Threat" theorizes the understudied mechanisms of threat in two multi-chapter case studies that reconsider the relationship between "rising China" and a global environmental imaginary in which it is treated as an existential threat. The first analyzes China's association with zoonotic pathogens and the diseases they cause, including swine flu and Covid-19. The second centers on the South China Sea, where China has recently carried out a massive island building campaign. Together, they reveal how cultures of threat not only take form aesthetically through maps, films, fiction, and other media in Chinese and English, but also make form materially through the manipulation of human and animal life and the reshaping of the earth.
Research for "Cultures of Threat" has been supported by a Sydney China Fellowship at the China Studies Centre at the University of Sydney (Spring, 2019) and a 2021-2022 residential fellowship at the Radcliffe Institute for Advanced Studies at Harvard University. In the spring of 2023, Byrnes will continue work on this project as a Fellow at the Bogliasco Foundation in Bogliasco, Italy.


Books


Fixing Landscape: A Techno-Poetic History of China's Three Gorges (now available from Columbia University Press)

Awards
2020 Harry Levin Prize - Honorable Mention
Honorable Mention for ACLA's Harry Levin Prize for outstanding first book in comparative literature goes to Corey Byrnes for Fixing Landscape: A Techno-Poetic History of China's Three Gorges.  "The Three Gorges "indelibly inscribed the power of the state onto the surface of the earth." Byrnes's reading of this inscription synthesizes the literary and cultural historiography of premodern China with critical approaches derived from geography, landscape studies, postcolonial studies, and art history. The result is an elegant and original model for the study of the refraction of engineering in aesthetic culture and of aesthetic culture in engineering. Fixing Landscape transforms our understanding of the role of literature and other arts in mediating between the natural world and social values—two realms in constant flux and co-creation. Heidegger's observations on dams as "standing reserve" come to a head in this convincing retelling of a story both organic and inorganic, equally about contemplation and domination. A sophisticated descriptive study anchored in close reading, the book articulates several of the most influential methodological strains of contemporary criticism while contributing to the elucidation of its riveting object of study."
Weatherhead First Book Award
The co-winner of the 2018 First Book Award is Corey Byrnes for Fixing Landscape: A Techno-Poetic History of China's Three Gorges, now available from Columbia University Press. The First Book Award of the Studies of the Weatherhead East Asian Institute was established to enable young scholars to publish their first work. The donor is an alumna of the Columbia School of International and Public Affairs who worked for the Institute's publications program more than thirty years ago. It is her hope, through this endowment, that the Institute's publications programs will continue to benefit young scholars of East Asia for a long time to come. 

Selected Publications

"China as Threat," Made in China (forthcoming, Fall 2022)
"Imagined Islands and the Potential Nation," Positions (forthcoming, 2023)
"A Cheaper Machine for the Work," in Proletarian China: A Century of Chinese Labour (Verso, 2022)
"Men at Work: Independent Documentary and Male Bodies," Journal of Chinese Cinemas (2020) 
"Transpacific Maladies," Social Text 38.3 (Fall 2020)
"The Infrastructure of Coral," Verge: Studies in Global Asias 6.2 (Fall 2020), Special Issue on Infrastructure
"Chinese Landscapes of Desolation," Representations 147 (Summer 2019) 
"Wu Ming-yi's Man with the Compound Eyes—Of Changing Seas and a World Made Rich and Strange," Modern Chinese Literature and Culture Resource Center (online; October 2014) 
"Specters of Realism and the Painter's Gaze in Jia Zhangke's Still Life," Modern Chinese Literature and Culture (Fall 2012)