JingJing Ji
Associate Professor of Instruction
M.A., East China Normal University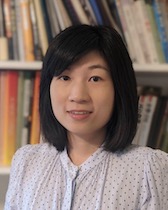 847-467-1548
1880 Campus Drive, Kresge Hall, Office 4-435
Ji is a Ph.D. candidate in Literacy, Language, and Culture at the University of Illinois Chicago (UIC). She earned her M.A. in Teaching Chinese as a Foreign Language from East China Normal University in P.R. China.
At Northwestern University, she has taught various Chinese language courses at different levels, from novice to advanced, for heritage and non-heritage tracks. Each year, Northwestern students nominate professors to be on Associated Student Government (ASG) Faculty Honor Roll for their outstanding and dedicated work. Ji was selected to be honored twice in 2016-2017 and 2019-2020. She was also the first prize recipient for Innovative Excellence in the Teaching of Chinese as a Foreign Language awarded by the Chinese Language Teachers Association (CLTA), USA, in 2021-2022. The relevant project was reported by the newspaper The Daily Northwestern.
Before coming to Northwestern, she taught Chinese at Washington and Lee University and the University of Virginia (UVA). Ji also has extensive teaching experience in intensive and high-quality summer programs. She taught at UVA in Shanghai summer program for two summers and Middlebury College (Summer Chinese School) for three summers. She is an Oral Proficiency Interview (OPI) tester certified by the American Council on the Teaching of Foreign Languages (ACTFL).
Ji's research interests are in second language acquisition, Chinese pedagogy and heritage language education. She is particularly interested in Chinese heritage language learners' identity construction and development, learning strategies, and heritage language program development.
Her publications have appeared as a column article in the journal Language Teaching and Linguistic Studies, and in the magazine Times Higher Education. Her research articles have been published as conference proceedings, and in peer-reviewed journals such as Foreign Language Annals, Journal of Technology and Chinese Language Teaching, Studies in Chinese Learning and Teaching, and Journal of the National Council of Less Commonly Taught Languages.
Back to top