Phyllis Lyons
Professor Emerita
Ph.D., University of Chicago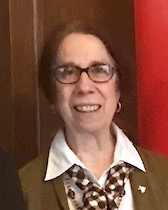 1880 Campus Drive, Kresge Hall, Office 4-520
Lyons received her Ph.D. from University of Chicago. She established the Japanese language and literature program at Northwestern and guided its development from 1978 to 2016. She also was instrumental in the formation of the new Department of Asian Languages and Cultures, established in 2013. From 1978 to 2016, she taught a wide variety of courses introducing Japanese culture through its literature, and advanced language courses in Japanese literature.
Lyons' area of specialization is modern Japanese fiction. She has published a study of the novelist Dazai Osamu (The Saga of Dazai Osamu: Critical Study with Translations), and a translation of the novel, In Black and White, by Tanizaki Jun'ichirō (2018).

In April 2018, Lyons was decorated by the Japanese government with the Order of the Rising Sun, for her commitment to communicating understanding of Japanese literature and culture.
Most Recent Award
Back to top