Rami Nair
Hindi Language Program Coordinator; Associate Professor of Instruction
M.A., University of Warsaw, 1992; Ph.D., Northwestern University, 1998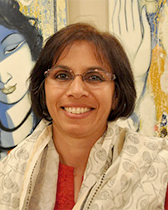 847-467-7581
1880 Campus Drive, Kresge Hall, Office 4-429
Rami Nair spent her childhood between India and Poland, and is fluent in four languages. She earned her masters degree in Applied Linguistics at the University of Warsaw in Poland, and did her Ph.D. in Linguistics at Northwestern University.
In 1998, she started the Hindi language program at Northwestern, within the now no longer existing Program of African and Asian Languages.
Nair teaches 3 levels of Hindi-Urdu classes, and coordinates the Hindi-Urdu Language Program. She is also deeply committed to the Buffett Global Kitchen initiative, and wants to enable instructors in using food, and food related language as a medium for teaching about the culture of the target language.
Her other interests include language pedagogy, second language acquisition, less commonly taught language issues, Bollywood movies, and gardening.
Back to top