Hsiu-Ling Robertson
Professor Emerita
Ed.D, University of Massachusetts, Amherst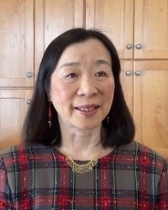 1880 Campus Drive, Kresge Hall
Hsiu-Ling received her Ed.D from the University of Massachusetts at Amherst. Before joining the teaching track faculty at Northwestern University, she was associate professor at Tunghai University in Taiwan. She was also a visiting scholar at Department of East Asian Languages and civilization at Harvard University in the academic year 1999-2000.
Her teaching at Northwestern focuses on heritage learning instruction. She has taught second and third year Chinese language courses in addition to exploring globalization and pop culture issues within these advanced language classes.
She has published two books: Women's Self-recognition in Modern Chinese Literature. Taipei: Le Jin Books LTD, 2004 (in Chinese); Wings of Life: The Road Less Traveled by Nine Brave Women. Taipei: Nu Shudian (Women's Publisher), 2003 (in Chinese).
Hsiu-Ling directed a documentary film, "Foreign Brides in Taiwan"; and, she is currently in the process of directing a film titled, "The Fabulous Buddha" that engages the roles nuns play in modern Taiwanese society.
Back to top