Yumi Shiojima
Japanese Language Program Study Abroad Adviser; Professor of Instruction
M.S.Ed., University of Pennsylvania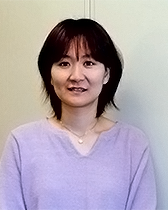 847-491-2764
1880 Campus Drive, Kresge Hall, Office 4-349
Yumi Shiojima received her M.S.Ed. from the University of Pennsylvania. She has extensive experience in classroom teaching, instructional coordination, and curriculum development, both in the U.S. and Japan, including at Rhodes College, the Japanese School at Middlebury College, the Summer Intensive Program at the Japan Center for Michigan Universities in Hikone City, and the University of Missouri's Language, Culture, and Performing Arts (Ningyō Jōruri) Program in Iida City.
At Northwestern, her course development and teaching credits include courses at all levels, most notably, a writing-focused course in the thematically-based fourth-year curriculum. Shiojima is a recipient of the 2010-2011 Arts and Sciences Alumni Teaching Award of the Weinberg College Distinguished Teaching Awards. Her scholarly interests include second language writing instruction, study abroad, and teacher development.
Shiojima co-authored the IES Abroad MAP (Model Assessment Practice) for Language & Intercultural Communication (2011, first edition) for IES Abroad. Shiojima served for 2008-2011 as the Co-Chair of the Council on Language Instruction, the overarching organization of language instructors at Northwestern that advises on language pedagogy issues and promotes professional development of language instructors.
Shiojima serves as a Fellow at the International Studies Residential College. She was honored with the 2019-2020 T. William Heyck Award for her exemplary contributions as a fellow to the residential college program. 
Back to top