Jili Sun
Associate Professor of Instruction
Ph.D., University Sorbonne Nouvelle, 2006; M.A. University of Sorbonne Nouvelle; B.A., Guangdong University of Foreign Studies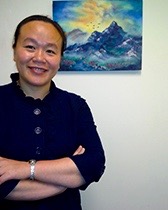 847-467-0539
1880 Campus Drive, Kresge Hall, Office 4-534
Jili Sun received her B.A. in French literature at Guangdong University of Foreign Studies (previously Guangzhou Institute of Foreign Languages) in the P.R.C.. She received her Maîtrise in Teaching French as Foreign Language in University Jussieu (Paris VII) and her M.A. (DEA) of Second Language Acquisition and Pedagogy at University of Sorbonne Nouvelle (Paris III) . Her thesis title was "Comparison of Narrative Cohesion in French and in Chinese in the Case of first and second Languages".
Sun received her Ph.D in linguistics with honors in 2006 at University Sorbonne Nouvelle (Paris III) with the thesis "The Acquisition of Temporality (tense and aspect) by Chinese Learners of French as second language and by French Learners of Chinese as second language".
She conducts research in second language acquisition and pedagogy, interaction between language and culture, and analysis of narration. She is also interested in religious studies, and has received a DEUG degree in studies of Christianity in Institute Catholic of Paris.
Back to top